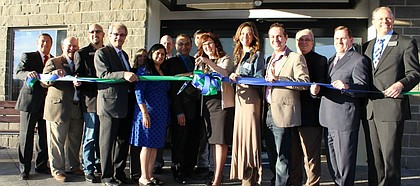 Friday, February 19, 2016
Owners of several hotel groups around Kansas gathered with Shawnee leaders and the Shawnee Chamber of Commerce Wednesday to celebrate the grand opening of Shawnee's third hotel, Holiday Inn Express.
Located at the northwest corner of Interstate 435 and Midland Drive, the new hotel, which officially opened in December, brings more than 114 new rooms to Shawnee in an area that is exploding with hotels.
Construction is also beginning soon on two other hotels, a Comfort Inn and a Fairfield Inn, on the opposite side of Interstate 435 on the land formerly occupied by the Shawnee Park Christian Church.
The Holiday Inn Express, owned by the Liberty Hotel Group out of Liberty, Mo., and John Edminson of the Midland Hotel Group, is the latest product in the Holiday Inn line of hotels.
"We are very proud of this hotel, and I think it is one of the nicest products we have been associated with," Edminson said.
Kevin Fern, the executive director of Visit Shawnee, said the new hotel brings a lot of excitement to Shawnee.
The area is home to the WestGlen shopping district, which has numerous restaurants including Paulo and Bill Restaurant, Barley's Brewhaus, Jose Pepper's Mexican Restaurant and more. Across Interstate 435 is Hereford House.
Fern said the addition of various hotel brand names, room rates and overall diversity in options bodes well for the area.
Holiday Inn Express began construction in 2013 after the Shawnee City Council voted unanimously to issue federally taxable private activity bonds to the developers. The development cost an estimated $9.8 million and is estimated to bring in $990,073 in new taxes and revenues per year.
The project, built on an old Christmas tree farm, was delayed several times over the past several years due to weather and other setbacks. Edminson and the hotel's general manager Renee Hadley said they couldn't be more excited to finally open the doors.
"I love that we're able to have this brand represented in Shawnee," Hadley said.
Mayor Michelle Distler said that the opening of the hotel is another boost for an area that needs hotel services because of its proximity to large sporting sites such as the Mid-America Sports Complex.
"This area continues to be a hub of activity for our community," Distler said.
In addition to the Holiday Inn Express, the two other hotels set to begin construction soon also include plans for an additional commercial building in the area. One of the hotels will be a 40,830-square-foot Fairfield by Marriott Inn and Suites with 78 rooms. The other hotel will be a 40,620-square-foot Comfort Inn and Suites containing 65 rooms. Both hotel buildings would be three stories tall, according to their preliminary plans.
The commercial building is proposed to be a 12,540-square-foot multi-tenant building on the southwest corner of the 16500 Midland Drive lot. The shopping center will be designed with a concept to hold nine different businesses.