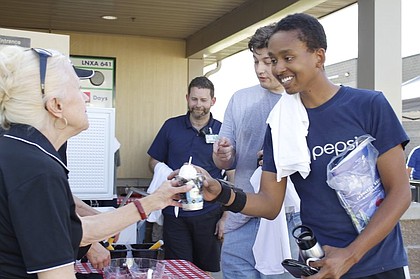 After a grueling day of loading and unloading heavy packages onto trucks, hundreds of FedEx employees were treated to a surprise frozen custard party on Monday evening.
The intense 90-degree heat seemed a little more bearable with a Sheridan's sundae topped with strawberries or Oreo cookie crumbles, many of them agreed, with a smile.
The impromptu dessert social was courtesy of the Shawnee Economic Development Council, which holds employee appreciation events once or twice a year.
Last fall, the council hired an ice cream truck to drop by numerous businesses along the K-7 and 83rd Street corridor. The truck didn't have time to stop by FedEx, however, so the city decided to make it up to the employees by bringing creamy custard right to their front door this week.
Mayor Michelle Distler and councilmembers Dan Pflumm and Brandon Kenig stood by, shaking hands with employees and thanking them for their hard work, as well as passing out Shawnee t-shirts and coupons packets.
"This is our way of letting the community know they are important to us," Distler said. "We want all the employees in our town know they make as big a difference here as the people who live here. This is their city too."
The employee appreciation event began back in 2012 with a cook-out at Perimeter Park. The following year it was held at Nieman Business Park.
The economic development council plans to keep moving the event around the city each year, said Andrew Nave, the council's executive director.
The next one is scheduled for Labor Day, but the location is still unknown.
Coming specifically to FedEx this week was vital because the massive hub, which sits near K-7 and 83rd Street, is one of the largest employers of the city, he added.
"We want new businesses to come to Shawnee and we want our current businesses to expand, but we can't do any of that without people," Nave said. "This is our way of saying 'thanks' for working in our city."
He echoed Distler's sentiment that employees, whether they live in Shawnee or not, are as important to the city as its residents.
"They're just as invested in our community because they're spending their hard-earned dollars here," Nave said. "They're buying lunch or shopping for food or buying gas."
Many of the employees who stopped by for a frozen treat were grateful for the token of appreciation.
"I think it's great," said Christopher Cook, operations manager. "Mondays are a very long day here, so to give our guys a treat and a chance to cool off and enjoy themselves, it's a big deal. The support and recognition from the city is amazing and it's not something you see a lot of cities do."
Steven Lang, a package handler and switcher, agreed.
In the midst of his nine-hour shift, he took a much-needed break to enjoy an Oreo sundae.
"It's awesome to be appreciated and this was the perfect treat after a long, hot day," he said. "I know a lot of the guys were really happy about it."
Shawnee city officials were touched by the enthusiastic response. They're already looking forward to the next employee appreciation event.
"It's employees' hard work and customer service which keep people coming back to Shawnee for services, so they really do impact our city a lot," Distler said. "We're lucky we have a lot of great people working in our city."