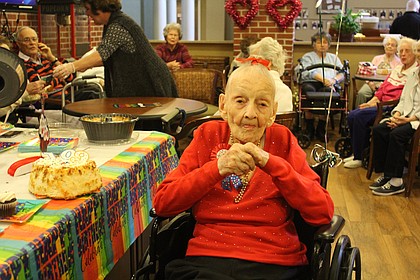 Tuesday, February 7, 2017
Last week, Ruth Brown celebrated her birthday.
And while turning a year older may not seem like a big deal for most people, for Brown it's a monumental moment.
After all, she's 109 now.
Brown, who is believed to be the oldest living person in Kansas, resides at Brookdale Shawnee, a senior living community west of 65th Street and Nieman Road.
On Friday afternoon, employees at the center held a birthday party for the Kansas City, Kan. native, complete with her favorite treat: angel food cake.
Dozens of Brookdale Shawnee residents, Brown's two nephews and even the mayor of Shawnee, showed up to celebrate the big occasion.
After the adoring crowd sang "Happy Birthday," Mayor Michelle Distler presented Brown with a Certificate of Achievement.
"How do you get to be 109 years young?" Distler wondered aloud to the Dispatch, with a smile. "I want to know her secret. Ruth looks absolutely beautiful and you can definitely tell she loves angel food cake."
Although Brown isn't able to fully communicate vocally anymore, she's very alert, Brookdale Shawnee staff insist.
"She wiggles in her chair and taps to the beat of music," said Mandy Smock, health and wellness director for Brookdale Shawnee. "Although she doesn't talk that much, she communicates through her body language and her eyes. She's always smiling."
Vicki Jones, the executive director for Brookdale Shawnee, said Brown is the oldest resident the center has ever had reside there.
She's impressed by Brown's pleasant disposition and good health.
"At this stage in life, you should celebrate everything," Jones said. "It's very special to have her here."
She pointed out that Brown has lived at Brookdale Shawnee for eight years, so she arrived to the community already at 101 years old.
"Birthdays bring back memories, so we wanted to create something special," Jones said. "To celebrate someone at this age is incredible."
She said it was even more special to have Brown's family attend the festivity.
Two of her nephews showed up to wish her a "happy birthday." Her son, who lives in New York, flew in after the party to attend a family get-together planned for later that evening.
"One of the great things growing up around her was her wonderful stories," said her nephew, Robert Tietze, the mayor of Mission Woods. "She was an independent woman who took trips around the world and worked during a time when not a lot of women had careers."
Brown was born in 1908 in Kansas City, Mo. as the oldest of three children.
She married Joseph Brown in 1942 and they had one son, Richard, and eventually two grandchildren.
Joseph, however, passed away in the 1960s.
She worked as the secretary to the founder of Cook's Paint and she traveled extensively in Asia and Europe.
When she wasn't enjoying time with friends or reading a good book, Brown loved baking angel food cake and apple pies.
Tietze said his aunt was outgoing, friendly and he never heard her say a bad word about anyone.
She was also resilient, living on her own until she was 99-years-old.
Although one may speculate about Brown's secret to living well past 100, Tietze says genetics definitely may have played a role.
After all, Brown's father passed away at 92 and other family members lived well into their 80s and 90s.
"There's a history of longevity in the family, but she took the crown," Tietze said, with a grin. "It's unbelievable. She still has a healthy appetite too."
He was touched so many residents showed up to the party.
"It really means a lot to see so many people care about her," he said.