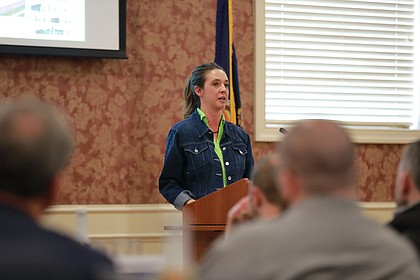 Wednesday, February 15, 2017
"But wait, there's more!"
That quirky infomercial catchphrase was the theme of Mayor Michelle Distler's State of the City address last week.
While the theme of the address was light-hearted, the sentiment behind the pop-culture quote was a serious one.
Standing front and center at Shawnee Town Hall last Wednesday afternoon, the mayor informed attendees that the city was headed in the right direction, but there was still so much more she wanted to see in terms of development, economic growth, infrastructure, and communication.
"This has been a tremendous year and we have accomplished so much," said Distler during her speech, which was hosted by the Shawnee Chamber of Commerce. "Today, I can only tell you a small part of all that we have done, but there is so much more I want to do. Our community has so much potential, and I want us to keep getting better every day."
In the past year, Shawnee has seen quite a bit of development, the mayor pointed out.
On a large scale, Federated Rural Electric Insurance Exchange is constructing a 36,690 square foot professional office building on Renner Road and will be relocating its 60 employees to the new headquarters building.
The new Stag's Creek development will place a modern-architecture building at Shawnee Mission Parkway and Goddard Road, creating an eye-catching gateway into the city.
There are also two new hotels under construction in Shawnee.
Last year, the city welcomed several businesses, including McAlister's Deli, Oishi Japanese Cuisine & Bar, The Other Place restaurant and Mi Pueblito Meat Market.
Set to open soon are Centra Care, an urgent care medical facility, near JoAnne Fabrics, and Discount Tire, next to McAlister's Deli.
On the horizon is the potential development of the Westbrooke Village Shopping Center at 75th Street and Quivira Road.
Kansas City, Mo. firm Mission Peak Capital bought the shopping center last year and the mayor said she is hopeful positive changes will be made for the area.
Out in western Shawnee, the construction of the Monticello branch of the Johnson County Library will break ground this spring.
The state-of-the-art facility will feature cutting-edge technology, a rooftop terrace, and trails with interactive elements outside the building.
The mayor also expressed her excitement for the Nieman Now project, a major makeover to downtown, which the city hopes will boost business and attract new development.
Nieman Now encompasses four stormwater projects and drastic road and pedestrian improvements to Nieman Road, between Shawnee Mission Parkway and 55th Street.
"It's a multi-million dollar investment that will not only enhance the look and feel of downtown Shawnee but it will also convert flooding streamways into green space and provide even more community connections between neighborhoods with more trails and paths," Distler said. "Nieman Now is one of those big projects that we will look back on decades from now and see what a solid commitment this was to our downtown and to making Shawnee even more than it is now."
Another major roadwork project taking place in Shawnee is on Clear Creek Parkway in western Shawnee.
It will extend Clear Creek between Clare Road and K-7 Highway.
"This will not only allow for more beautiful neighborhoods, it will make it easier for people to drive to businesses out in that area," Distler said. "It's going to be a beautiful road and will also have a trail for those wanting to walk or ride bikes as well."
To support the city's current and future businesses and neighborhoods, Shawnee needs to have solid infrastructure, the mayor pointed out.
The city council recently voted to raise the stormwater utility fee to help pay for the 57 miles of the city's pipes which need to be either completely replaced or require major repairs.
"That was a hard decision because we know it impacts families, churches and businesses but we also know that we will be able to fix more deteriorating pipes now and moving forward," Distler said. "This fee increase marked the first time we've had to raise it since 2006 but it is truly allowing us to put more emphasis on your safety and our community's sustainability."
Public safety is also high on the mayor's priorities for the city.
Her face lit into a smile when she announced that the Shawnee Police Department recently received two federal grants.
One will pay for five more police officers; the other will make it possible for every single officer to be outfitted with body cameras.
The mayor also noted big changes are happening with the Shawnee Fire Department as well.
Soon, once it selects an exact location, the city will be constructing Fire Station 74 in the northwestern part of Shawnee, to make response times faster. It is hoped to be up and running in 2018.
Distler also pointed out that the Mayor's Christmas Tree Fund raised nearly $23,000 this year, more than the city has ever raised.
Proceeds benefited the Shawnee Lions Club and Rebuilding Together Shawnee.
The city also plans to create better communication with the community this year, as it is working on building and launching a new website.
Distler said that citizen feedback is one of the most important aspects of her position as mayor, so she's hoping residents will fill out the current Citizen Satisfaction Survey, which has been mailed to residents.
The survey can also be found on the city's website.
The mayor concluded her speech by honoring former Shawnee city attorney Marvin Rainey and former mayor Tony Soetaert, both who passed away late last year.
"Both men were truly pillars of our community," she said. "Their legacy and impact on Shawnee was enormous and will be seen and felt forever. And talk about more. They set the stage for more."
The mayor's address was well-received by the dozens of people who attended.
"There are a lot of things going on in Shawnee," Johnson County Commissioner Ron Shaffer told the Dispatch. "One of the key assets to a city is development, so its exciting to see so much of it happening here. There's lots of growth."
His sentiments were echoed by many residents and Shawnee businesspeople.
"The mayor's speech was optimistic and informative," said Jackie Byars, the marketing and sales specialist for American Family Insurance in Shawnee. "I'm looking forward to seeing all the changes that are coming."