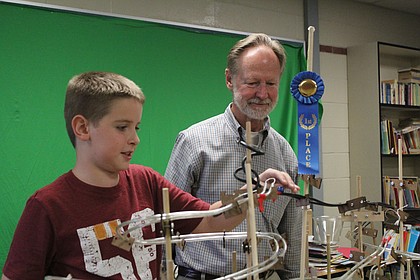 These days it's rare to find a kid who enjoys playing a game which doesn't involve a screen.
At Broken Arrow Elementary School, there are around a dozen kids who prefer to play the old-fashioned way.
In fact, they enjoy an activity which dates back hundreds of years: marbles.
Their newfound hobby is thanks to a special club at the school which focuses on the ancient game.
The club is run by marble enthusiast and author Rich Maxwell, of Shawnee.
He also runs a marble club at Nieman Elementary School.
Last Thursday afternoon, the Broken Arrow Marble Club had its last play session of the school year.
It was a time for the kids to reminisce about the past year. Many of them had never played marbles before joining the club when it was formed in October.
One of the most interesting aspects of the club, they agreed, was learning facts about marbles.
They were surprised to discover marbles aren't all made of glass; some are made of stone, steel or clay.
Maxwell also taught the kids to distinguish between the various types of marbles, such as chrome, cat eye and corkscrew.
"I used to think marbles were just marbles, so it was cool to learn there are so many different types, said Audrey Rasmuss, a fourth grader.
She enjoyed the club so much, her younger brother, Wayne, joined out of curiosity.
Now, he's a fan.
"It's pretty easy once you know how to do it," said Wayne, a first-grader.
The two often play marbles at home.
In addition to fun facts, Maxwell also taught the kids history and specific games.
But the club is much more than the marbles themselves.
Earlier this year, the students spent several weeks building a seven-foot marble track.
In late February, they brought their track to the regional robotics tournament in Kansas City to face off against a track built by the Nieman Elementary Marble Club.
After many robotics students voted, Broken Arrow was declared the winner.
It was a proud moment for Maxwell who was pleased with the hard work and focus from his students in both clubs.
"Kids can learn vocabulary or math with a smartphone but you can't learn to think with a smartphone," he said. "With marbles, it's about tapping into your creative talent and it's also entertaining."
Maxwell, a well-known marble collector, got into the hobby nearly 20 years ago when his wife bought him a book about antique marbles.
"It lit a fire in me," he said.
He started going to estate sales and marble shows, gradually building his collection.
He now has an entire basement filled with around 30,000 marbles.
He also wrote a book, "Collecting Marbles: A Beginner's Guide."
He spends hours each week teaching everyone from children to the elderly how to play marble games.
He said one of his biggest fascinations with marbles is the toy's history.
He pointed out that in cavemen caves, there are sketches of stick men playing with what appear to be marbles.
Ringer, a game his Broken Arrow kids enjoy playing, dates back to Queen Elizabeth.
"Marbles are the oldest toy on earth," Maxwell said.
And he's excited to keep interest in the toy alive today.
He plans to continue both marble clubs at Broken Arrow and Nieman next year.
This summer, he's also holding a marble camp through the Johnson County Parks and Recreation District.
The camp will include building marble rollercoasters and race tracks, playing competitive games and it will conclude with a marble tournament.
For more information about the camp, call 913-826-2950.
For more information about Maxwell, visit facebook.com/makeitallaboutmarbles.