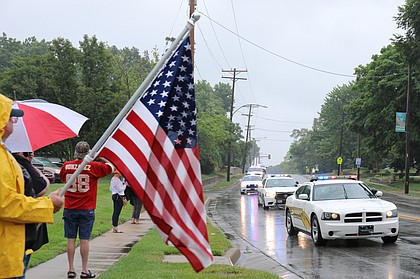 As we near the Fourth of July holiday, the recent tragic deaths of two Wyandotte County Sheriff's Deputies should serve as a valuable reminder the freedoms and liberty we enjoy often come at a very high price.
We honor those whose who serve and risk their lives in foreign lands, but it's also important to remember there are countless brave men and women here on the homefront who protect our families and friends each and every day of the year.
These people are known as law enforcement officers.
Sheriff's deputies, police officers, state troopers, corrections officers and other law enforcement professionals are part of a unique group of people.
This group is known as the thin blue line.
The thin blue line is not a special club or fraternity. It is the literal definition of those who protect society from the evil that exists in our world.
The line represents those who unselfishly fight what society fears, so you can live, work, play and sleep in peace.
While you may not often give a second thought to these heroes of society, they are always out there, proudly guarding the line.
While you are enjoying summer barbecues, pool parties and other fun activities, law enforcement officers sacrifice time with their families to protect yours.
Officers often miss their children's school activities, family events, church functions and holidays.
Many leave for work early and come home late. Some may not come home at all.
These heroes work around the clock, year round so you and your family can live in safety without fear.
Unlike in comic books, the identities of these super heroes are not hidden. They are our neighbors, our friends and our family.
When a hero loses their life in the line of duty, it's more than just a law enforcement officer. It's a special kind of human being who gave their life to make yours better.
Behind the badge of every fallen officer is a person, and a story.
Law enforcement officers aren't forced to do the job they are in. They chose it.
They stepped up to do what many people would never want to do.
Officers routinely endure negativity, disrespect, verbal and physical abuse and hatred simply because of the uniform they wear.
Human nature and instinct say we should run from unpleasantness and danger, not toward it, but someone has to do it.
When asked why someone would want to put themselves and their families through this, the answer is always the same. Someone has to care. Someone has to want to make a difference.
These fallen deputies and all the other officers who gave their lives in service to protect society made a difference. They cared enough to become that blue line.
Take a moment to thank a law enforcement officer.

Let them know the sacrifices they make are not forgotten.
— Marty Augustine is a Shawnee-based writer with a background in law enforcement.